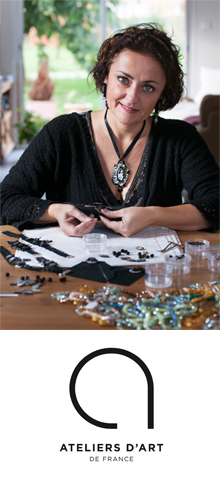 SOPHIE DUCOMTE
"I draw my inspiration from a wealth of sources: beads, textures, colours, and dazzling shimmery reflections. I sense and test combinations. Shapes, hues and reflections interact and come to life. An idea forms, develops and evolves until it achieves a delicate balance. All of a sudden a ref ined and mysterious realm is revealed. In an instant the parts come together and find their place: a jewel comes into being, a feast for the eyes. Flamboyant, yet delicate, each jewel has something of the baroque. It is even said that the pieces have a Russian soul and bring with them a hint of the Orient."
Sophie Ducomte is a designer who creates hand-embroidered jewels in her workshop in France. Her pieces are embroidered with beads, gemstones and crystals, and they stand out for their luxuriant creativity, their delicate harmonious colours and the highest standards of craftsmanship. The plastron necklaces, sets of jewellery, cuff bracelets and earrings that Sophie fashions are unique items, made to measure or in limited series. Sophie's aesthetics reveals a variety of influences, from Christian Lacroix and Eli Saab's Haute Couture creations, to René Lalique's jewellery, outstanding French craftsmanship, and the artistic wealth of Russia and the Orient.
Sophie Ducomte is a graduate from the applied arts school École Boulle. She started out as a textile designer and worked for a number of ready-to-wear fashion houses in Paris. In 2007 she decided to concentrate on jewellery, her true passion. She trained in Haute Couture embroidery at the school of the famous embroiderer Francois Lesage (Paris) and in 2008 she launched her own brand. In 2009 she was admitted to the Ateliers d'Art de France and she exhibited in a number of arts and crafts shows and art galleries. In recognition of her professionalism and the quality of her work, she was awarded the La Relève Prize in 2011 by the Ateliers d'Art de France. Since 2012 her jewellery has been exhibited at the Maison et Objets fair in Paris and she has attracted a foreign clientele.
Today you will find her creations in Paris, Saint Petersburg, Moscow, and in the Middle East where they are particularly appreciated by connoisseurs, either in galleries and shops, or in major French companies in the luxury sector, as well as by discerning lovers of exceptional
jewellery.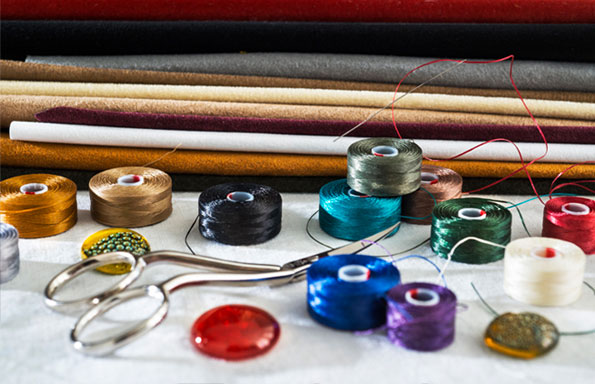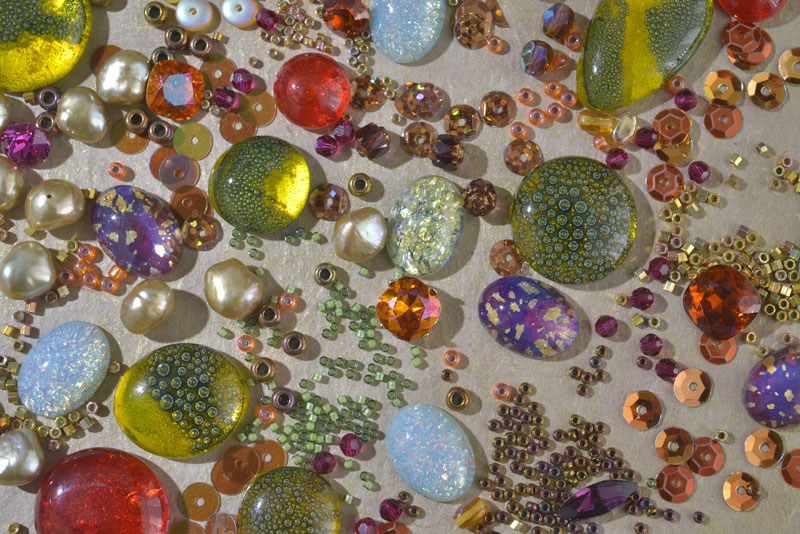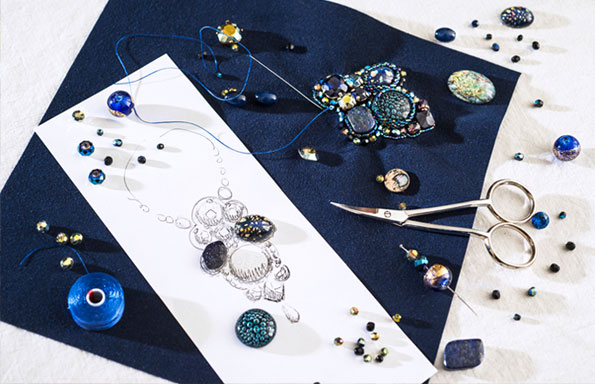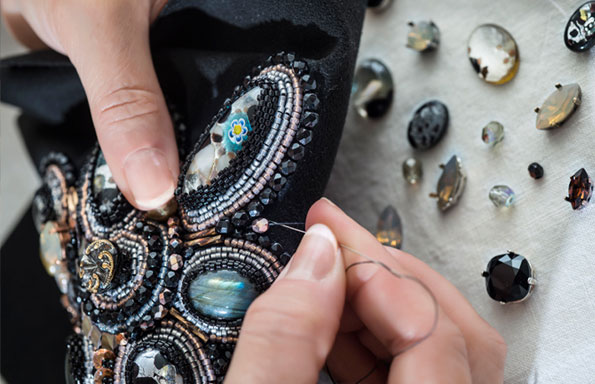 Workspace
Sophie Ducomte's jewellery is made in the spirit of Haute Couture: plastron necklaces, sets of jewellery, necklaces, cuff bracelets, and earrings.
Each piece is elaborately crafted by hand and embroidered one bead at a time: it is a subtle combination of glass cabochons tailor-made by master glaziers, of Bohemian and Swarovski crystal cabochons, and of Bohemian crystal and gemstone facets. Beadwork embroidery is used to set the cabochons. The base for the jewels is alcantara, which makes earrings and evening sets light and enjoyable to wear. Certain collections are fashioned by weaving or embroidery on ribbons and vintage braids.
Unique items – limited series – bespoke pieces.